Luismin Compound in Tayoltita, Mexico. 100% fully owned subsidiary of Vancouver Based Goldcorp inc.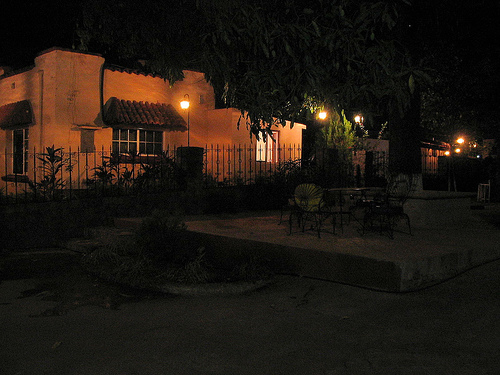 Recent correspondence:
Amnesty International currently has an Urgent Alert out because of concern for the safety of the lives of the people blockading (EJIDATARIOS DEL CARRIZALILLO) Goldcorp's LOS FILOS/BERMEJAL project.
So far, over 100 letters from 16 countries have been sent to local government officials asking them to ensure that the people peacefully protesting the Los Filos project are not subject to further police violence.
-
With regards to your specific questions here's the information I have:
> I want to be certain of the difference between Goldcorp and Luismin for example.
>
Luismin S.A. de C.V. is a wholly owned subsidiary of Goldcorp. Luismin has a long history in Mexico (dating back to 1890s). In 2002, Luismin was acquired by Wheaton River Minerals, which merged with Goldcorp on April 15th, 2005.
http://www.goldcorp.com/gold_projects/luismin/
> I want to know if this same company — which has been touting one of its gold mines as being highly productive — is talking about this mine in Guerrero or if it's talking about another one in San Luis Potosi.
>
There are two Goldcorp mines currently in the exploitation phase in Mexico:
1. San Dimas Mine, on the border of the states of Durango & Sinaloa. In 2005 San Dimas produced 132,000 ounces of gold and more than 9 million ounces of silver. This is an underground mine, & is indeed being touted as highly productive.
2. Nukay Mine, in Guerrero. This is a smaller mine that was acquired in the purchase of Los Filos (purchased from Wheaton River in 2005). Total gold production during 2005 was 16,269 ounces. The location of the mine is very close to the Los Filos mine.
In addition, according to their website, Goldcorp/Luismin have 78 exploration and exploitation concessions covering a total area of approximately 36,312 hectares in Mexico.
The Los Filos mine in Guerrero is where the blockades are right now. Exploitation has *not* started there yet. There is another mine 2km from Los Filos called Bermejal, which Goldcorp also owns. Feasibilitiy studies were completed in April of 2006. Project construction was supposed to be completed by the end of 2006, and commercial production was meant to start in the 2nd quarter of 2007.
Some of that may be delayed - if not completely stopped - by the blockades. The company has threatened to pull out of the area repeatedly.