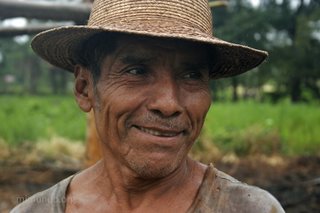 Man in Barrio Revolucion. Photo by James Rodriguez.
Today, the 27th of December, I arrived in El Estor along with James Rodriguez in order to be present in the possible forced eviction of six communities "occupying" land that purportedly belongs to the Skye Resources between here and Panzós.
I am currently working on a longer piece that investigates this case in detail, which hopefully will come out before too long.
In the meantime, for those of you following this case, we arrived at Barrio Revolucion at about 12:30 this afternoon, along with someone from CONIC. Men were mustered in a small hut, and when we arrived they summoned the community with a megaphone. There were few women present and no young children, they were most probably elsewhere for safety's sake, preparing for the worst.
There were introductions and Federico from CONIC shared some information with the community when we arrived. Using the megaphone, they broadcasted a live news segment from a local radio station announcing that the forced evictions would not happen today, as was initially expected. (see: Transcripción del orden de desalojo, below).There was nothing in writing to confirm that the evictions wouldn't happen. The sense of relief was limited, and the insecurity of the situation remains high.
We proceeded to hear from four community members about the possible evictions. All spoke with a conviction that comes only from knowing that one's struggle is truly just. One man, and I won't name names here, said "they can remove us from this land for a few minutes, but within ten minutes, we will be back." Another man told us that "If I die, it will be for our struggle. It will not be because I am a narcotrafficker or delinquent. We will continue our struggle until we reach our goals."
The message: "Development" brings us nothing but forced removals. This is our land and we are not leaving it.
I gave a short report on co-op radio Vancouver this morning. As I did with co-op listeners this morning, I will urge any Canadian (especially Vancouver based) readers of this blog to give a call to Skye Resources. Ask them what is happening in Guatemala with regards to forced evictions. Their number is 604-602-9500.
For visual context and another perspective, please check the weblog of Jaime Rodriguez.